Crystal Serum
is an unbeaten paint protection product. It provides ceramic protection with previously unachievable levels of gloss, durability, scratch and chemical resistance.
The composite structure offers ultimate safeguard, plus the same slick finish and candy-like gloss as the very best carnauba waxes.
With a 9h top and softer 7h base layer (based on the pencil hardness test), Serum offers improved swirl resistance over regular 9h coatings. It forms a thick combined film which greatly reduces surface hazing and improves gloss.
When your car is cleaned, even the harshest wash chemicals will not dull your gloss, as Crystal Serum is resistant to chemicals from pH2 to pH13. And on top of that, contaminants like bird droppings are easy to remove and will not harm a car's clear coat.
As well as chemicals, it is unaffected by extreme heat changes, even from -40 to +250 degrees Celsius and offers exceptional UV protection which prevents premature dulling.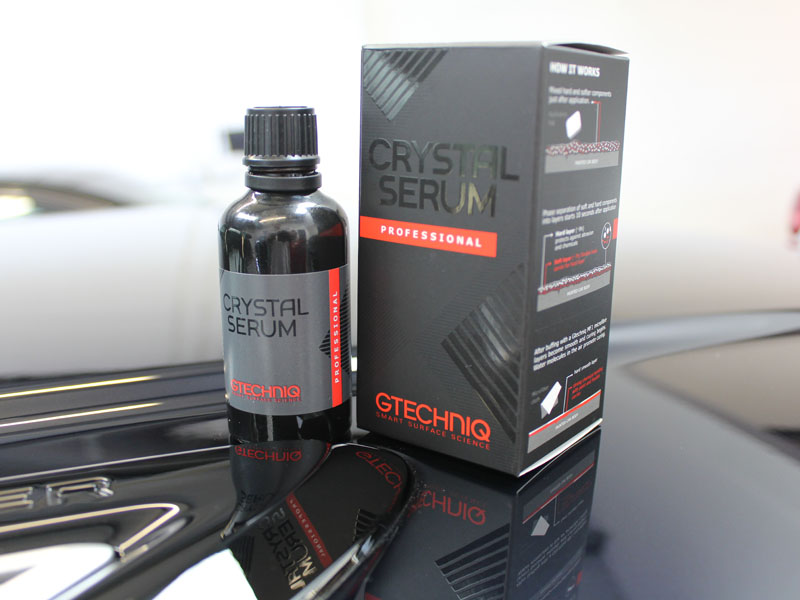 Crystal Serum Pro
7 year guarantee
Ultimate in gloss enhancement, swirl and chemical resistance
Professional application only
Also available is Gtechniq Crystal Serum LIGHT.
Crystal Serum Light is the prosumer version of the world famous Gtechniq Accredited Detailer only Crystal Serum
Serum Light offers 80% of Professional Serum's performance in regard to chemical and swirl resistance.
Crystal Serum Light
Best possible swirl mark and chemical resistance from a prosumer grade product
Incredible gloss
3 to 5 years durability
When it comes to adding gloss, resisting swirls, contaminant and dirt repellency, Gtechniq Crystal Serum and Serum Light are the pinnacle in paint protection.
We recommend an annual maintenance of the coating including surface decontamination (clay bar) but there is NOT any spray sealant required to maintain the release properties of the coating unlike some competitors on the market.